<< Back to search
Apartment Profile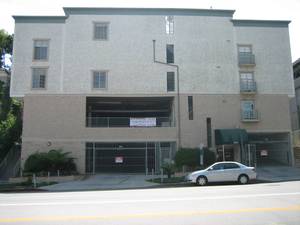 641 Gayley Ave
Phone: 310-824-1302
Average User Ratings (3 Ratings)
| | |
| --- | --- |
| Overall: 4.7 | Manager: 3.3 |
| Noise: 5.0 | Grounds: 4.7 |
| Safety: 5.0 | Parties: 1.0 |
Parking Available: Unknown
If you find any information on this page innaccurate, please Email Us! and tell us! Please include which building profile you're looking at. We will investigate immediately.
Date Posted: Wednesday, February 24th, 2010
report
| | |
| --- | --- |
| Overall: 1 | Manager: 1 |
| Noise: 5 | Grounds: 3 |
| Safety: 3 | Parties: 1 |
THIS PLACE JUST PLAIN SUCKS!!! …the only upside is its close proximity to campus, but that's just about it. It's pretty much the only apartment building on this side of the block besides one other building at the corner of Landfair. It is right next to the University Catholic Center, but other than that it is LITERALLY surrounded by frats. When I signed the lease last year, the manager at the time (Peter) was really nice. However, by the time I actually moved into the building, management changed (to Emily and Bill). These new people don't care about their tenants at all. When I moved in, THE PLACE WAS CRAWLING WITH ANTS!!! They were all over the walls and on the counter in the kitchen! Emily let us into the unit and when she saw the ants, she just wacked them aside and kept on talking. SHE ACTED LIKE THEY WEREN'T A PROBLEM! I moved in at the end of the summer so it was still pretty hot out, but when I tried to use the air-conditioner it was BROKEN. It would spew out semi-cool air for about all of 2 minutes and then proceeded to fill the room with even more hot air. When maintenance came to look at it, they said that it just required a "little trick" to get it working. Tried the "trick". Didn't work. Still BROKEN! I also noticed mold in my bathroom. The bathroom in my unit had terrible ventilation. The ventilation fan on the ceiling looked like it had never been cleaned since the place was built! Massive amounts of condensation would build up on the ceiling even after the shortest hot showers. Towels take DAYS to dry. The mold was there since the day I moved in and only continued to get worse. It covered half of the ceiling and all of the walls above the shower. I also had a broken fridge that literally took MONTHS to replace. It also leaked all over the kitchen floor, made extremely loud noise during all hours of the day, and ran my electricity bill THROUGH THE ROOF!!! Much of my "frozen" food ended up in the trash from melting. Everything in the refrigerator was covered in water dripping from the freezer while the actual ceiling of the fridge was covered in ice. I know that many other tenants have been plague with this problem as well. I have seen many broken fridges just sitting in the garage after their tenants could no longer use them. The management here obviously doesn't take a close look at their units before renting them out. There were also huge cracks on two different walls. They turn a blind eye to any pre-existing problems and blame everything on their tenants. They take ABSOLUTELY no responsibility for anything. All they want is your money and they do their best to prey on ill-informed students. The only way they'll handle your problems is if you contact them by email. They usually RESPOND to the email within a week, but it takes them MUCH longer to actually send any out to take care of it. They say they usually have someone out within 2 days, but I know I have only seen maintenance come in ONCE and when they did they did it was well over two days after I had last emailed about the problem. If maintenance ever did come through when I wasn't in the unit, then they are required to leave a notice letting me know that they were here, but I have never received anything about someone coming in when I wasn't home. My biggest problem was not taking a thorough walk-through of the apartment when I moved in with the manager there. I should have taken pictures of everything, tested everything, and reported all the problems right then and there so management could witness all the issues first-hand as I was. My best advice is to just steer clear of this place. Learn from my mistake and make sure you know exactly what you're getting before you sign away a year of your life and thousands of dollars to people and places like this. When looking for potential apartments and even before signing a lease, make sure you talk to the current tenants of the actual unit you're looking at and ask them if there are any problems. This may be hard to do when management is around but a few moments of aw
Date Posted: Saturday, February 13th, 2010
report
| | |
| --- | --- |
| Overall: 8 | Manager: 3 |
| Noise: 7 | Grounds: 7 |
| Safety: 6 | Parties: N/A |
The refrigerator has been sketchy the entire school year (the freezer isn't cold enough and the fridge is too cold) and the manager hasn't really done much to help despite millions of emails. The lower garage is also left open a lot, which can be dangerous.
Date Posted: Sunday, March 8th, 2009
report
| | |
| --- | --- |
| Overall: 5 | Manager: 6 |
| Noise: 3 | Grounds: 4 |
| Safety: 6 | Parties: 1 |
If you live closer to the street, you get less frat noise from the back of the building (otherwise this is not a party building), but that also means less sunshine. Floorboards are NOT in good shape; carpet is lumpy and it creaks everywhere you step. The gate on the left side of the building is always broken, and students are always stepping over the fence in the back. (I never had a problem with this, but I can see how it's a security risk.) I have never met the manager, but he gets repairmen out within 48 hours of a problem. This is an old building, and while everything works, it's not top-notch.